Based in Noida, Uttar Pradesh, India, we are a profound
Exporter, Manufacturer
and
Supplier
of
Agriculture Machine Parts and Components
. Our products such as
Ratchet Jack
is a mechanical device, which is widely used for lifting, moving and bracing loads of all types. This product posses high lifting capacity, light weight and low toe weight, making it user-friendly and easy in operation. Apart from this, we also fabricate
PTO Adapters
,
Tractor Hitch Balls
which are made according to prevailing market trends, meeting every requirement of clients.
Business Type

Exporter , Manufacturer , Supplier

Primary Competitive Advantages

Best quality products, competitive prices and on-time delivery




OEM Service Provided

No

Production Type

Automatic

Product Range

Linkage Parts, Agricultural Implements, Engineering Goods and other autoparts.

Products Offered:

Agriculture Machine Parts and Components

Top Link Assemblies
Weld On Ends
Bushings
Tractor Hitch Balls
Linkage Pins
Ratchet Jacks
Levelling Assembly
R Clips
Safety Pins
Lynch Pins
Pto Lock Pins
Hitch Pins
Drawer Hooks
Clevis Hooks
PTO Adapters
Drawbars

Construction Machine Parts and Components

Hydraulic Cylinder Parts
Pivot Pins
Customised Parts
Specialized Parts
Bushings and Sleeves
Implements and Shafts


Automobile Parts and Components

Automobile Components
Customised CNC Parts
Specialized Automobile Components

Forged Components.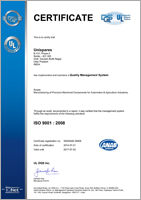 Get in touch with us